This yin yoga sequence helps you to accept the sadness and grief you may be feeling. It doesn't magically make these feelings disappear, but it gives you a way to cope with them.
---
How To Feel Your Feelings
Even if you're familiar with the phrase "feel your feelings," it can be difficult to actually feel them.
Practicing yin yoga is one way to feel your feelings, in a safe and loving space. It can help you to overcome the resistance to the emotions you don't want to feel.
If you practice this sequence, you might be flooded with emotions and tears. But if so, it will help you process what has been bothering you.
If you feel like crying, let it happen and know that the tears will wash away tension and stress.
Sequence Overview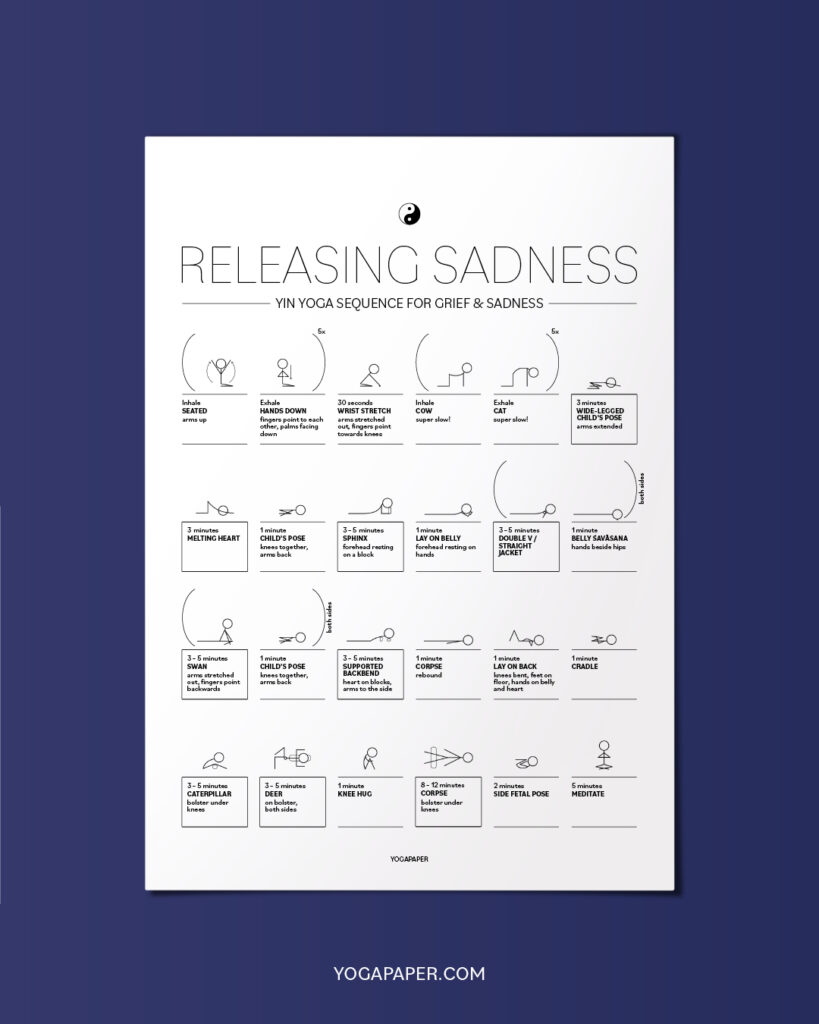 When you're moving your body, try moving as slowly as you can and with full awareness of your movements. Cat and Cow? Slow motion. Take your time when transitioning from one pose to the next.
9 Main Poses Of This Yin Yoga Sequence
Wide-Legged Child's Pose
Melting Heart
Sphinx
Double V (Straight Jacket)
Swan
Supported Backbend
Caterpillar
Deer
Śavāsana
Practicing Yin Yoga By Yourself
It might be more difficult to go out of your comfort zone if you're practicing at home alone. But being all by yourself also has great potential because no one can see you: Nobody can judge you, exceed your limits or disturb you.
While I still believe that a yin yoga class led by a good teacher is best, a private practice at home can be a good addition.
Create A Safe Space
Before you start your practice, create a safe space free of distractions and set aside enough time for your practice.
Clean your room, open the windows and let in some fresh air, put on comfortable clothes, light a candle and play some relaxing music.
Take this time for yourself, and yourself only.
Sit quietly for a few minutes and notice how it feels. This is your time.
How To Practice This Yin Yoga Sequence
To experience the full benefits of this sequence, try to move as slowly as possible.
Take your time and don't push yourself beyond your limits.
If a pose hurts, back off. It's important to listen to your body in order to prevent injury.
Get into the pose slowly and stay at your edge even if it's uncomfortable.
If you feel a slight discomfort, stay there.
If you feel nothing, move around until you experience some resistance.
Don't push yourself further, just stay at your edge, wait, and let gravity do its work.
Health-Related Information
Talk to your doctor before practicing this sequence.
It's not safe to do this during your pregnancy.
Yin Yoga Sequence For Releasing Sadness And Grief
Printable PDF Download
A step-by-step guide for your yin yoga practice at home.
Download the PDF here, print it out and try this yin yoga sequence now.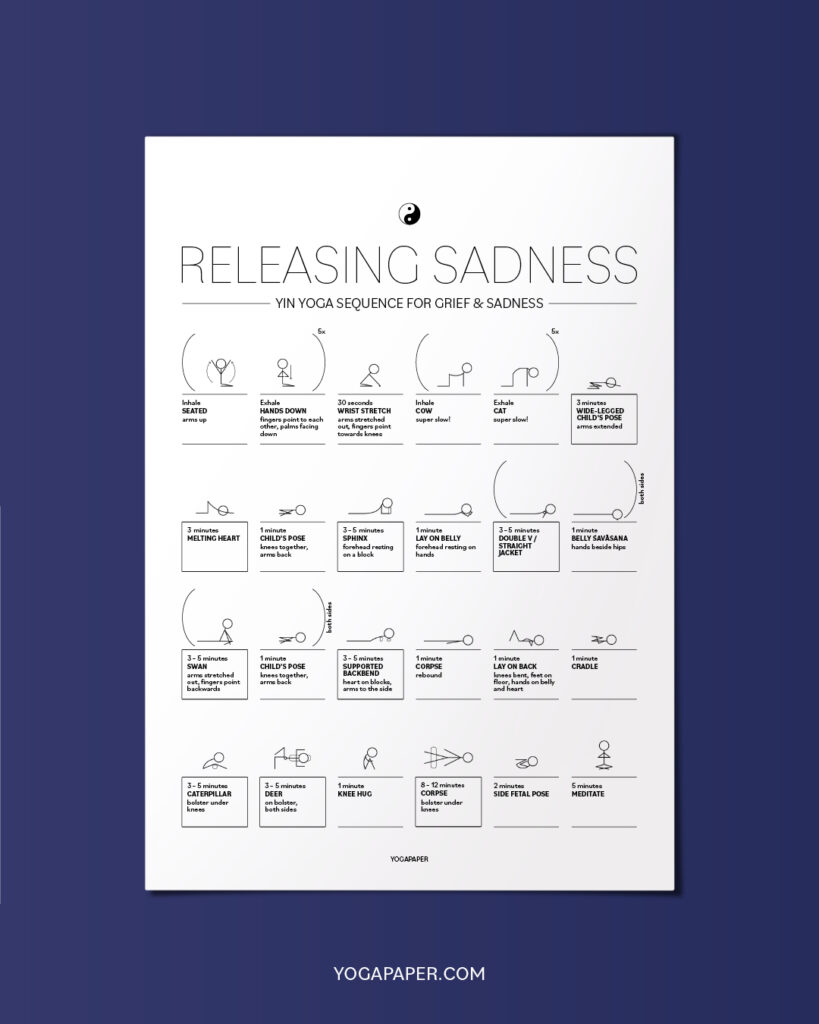 More Sequences On Instagram