Learn to use Canva as your yoga sequence builder with Yoga Paper's printable yoga cards and stickers. Create personalized printable yoga sequences in PDF format using free Canva templates.
---
Are you a passionate yogi, a yoga teacher, or perhaps in the midst of your yoga teacher training? Welcome to Yoga Paper! With the help of Canva and Yoga Paper's digital resources, you'll have a personal yoga sequence builder at your fingertips.

In this article, you'll learn how to create your own yoga sequences using Yoga Paper's free Canva templates and digital yoga stick figures from Etsy. As the founder and designer, Chiara, I'm dedicated to providing digital yoga resources to simplify and enrich your journey.
In this guide, we'll dive into how to use two of my most popular products, Yoga Stickers and Yoga Cards, coupled with the user-friendly design capabilities of Canva.
Why Canva? It's an incredibly versatile and easy-to-navigate platform that lets you create professional and visually appealing designs with minimal effort. To make your experience even smoother, I've crafted exclusive Canva templates designed to facilitate your yoga sequence creation process. Let's get started!
Step 1: Familiarize Yourself with Yoga Paper's Products
First things first, let's explore the resources available to you from Yoga Paper. There are two key products you'll need to know:
Yoga Cards: These are digital JPG files that include yoga stick figures along with pose names in both English and Sanskrit. They are a perfect choice if you like to have the names of the poses at your fingertips while planning your sequences.
Yoga Stickers: These are PNG files that consist only of yoga stick figures, without pose names. They offer a simple, clean visual representation of each pose. Ideal if you prefer a minimalist look.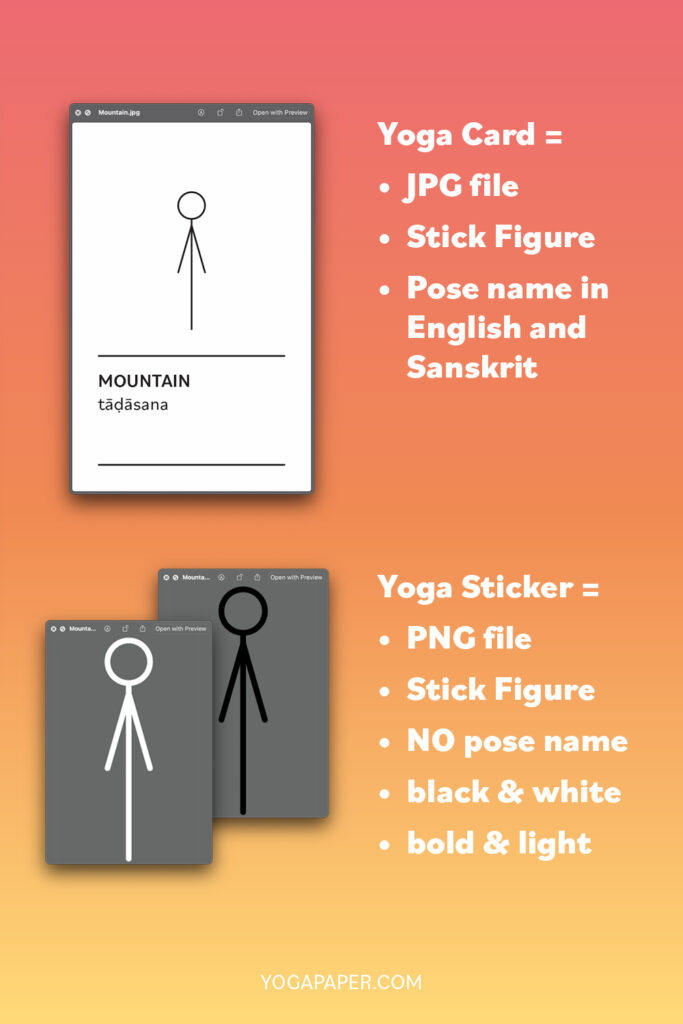 Step 2: Get Set Up on Canva
Next, if you're using a mobile device, you'll want to visit your device's app store and download the free Canva app. However, I highly recommend using a desktop and accessing Canva via a web browser for a more expansive and user-friendly experience. If you choose the desktop route, simply visit Canva's website and sign up for a free account.
Step 3: Open Your Yoga Paper Canva Template
Now that you're set up with Canva, it's time to explore the diverse range of Yoga Paper templates available to suit your unique needs. I offer a variety of formats, including DIN A4, Letter, Instagram Square, and Instagram Portrait.
If you're looking to create printable yoga sequences for convenient at-home printing, my A4 or Letter templates are the ideal choice. By exporting your designs as PDF files, you can ensure high-quality prints that perfectly capture your sequences.
Alternatively, if you're eager to share your sequences on Instagram, my Instagram templates are a perfect fit. Export your designs as JPG files and effortlessly upload them to your Instagram feed or story, captivating your followers with your personalized yoga journeys.
Feel free to explore my template options by clicking the links below.
Canva Template Links
How to Open the Canva Templates
To access and use the template, simply click on the provided link, and you'll be directed to the template page. From there, locate the "Use Template" button at the bottom, and click on it to start customizing your yoga sequence.
Preview Images of Canva Templates
To help you get a better idea of how the Yoga Paper Canva templates look, here are some example pictures showcasing the different formats:
Step 4: Upload Your Yoga Cards or Stickers to Canva
Now you'll want to upload your chosen Yoga Paper products. Simply click on the 'Uploads' tab on the left-hand side, then 'Upload Files', and select the Yoga Paper product files you want to use. Canva will upload your Yoga Cards or Stickers and they'll be conveniently stored under your 'Uploads' tab, ready for you to use.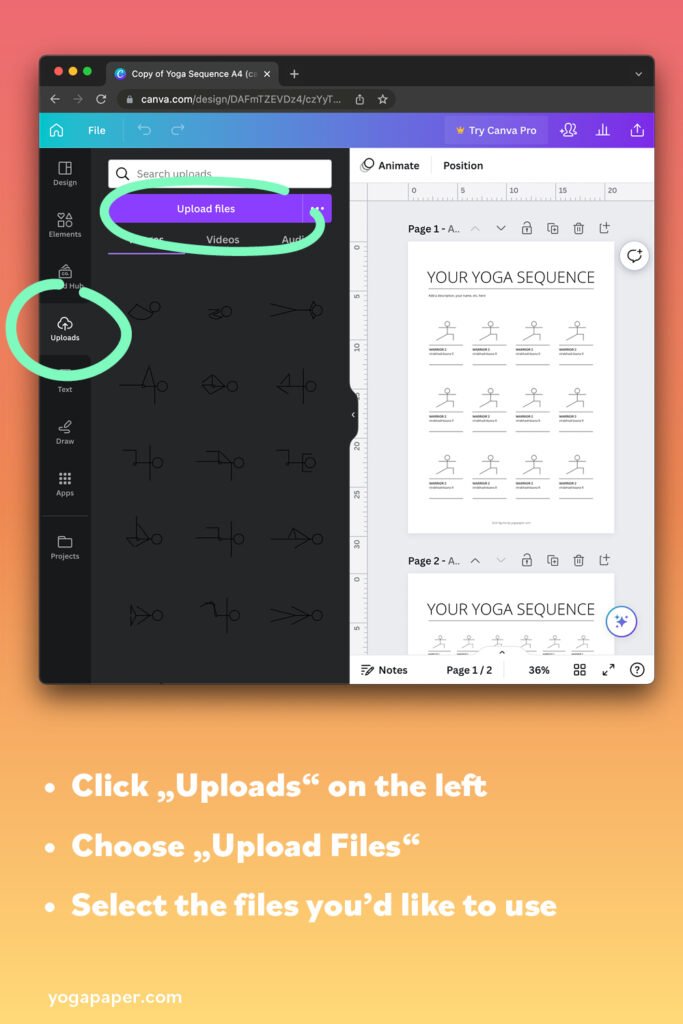 Step 5: Customize Your Sequence
Here's where your creativity gets to shine. Drag and drop your uploaded poses onto the template. It's as easy as dragging your chosen pose onto the existing image in the template to replace it. You can also adjust the size and orientation of the poses to fit your sequence perfectly.
Dive into Designing: To add more details or customize your template further, I recommend visiting the Canva help center on designing. It's a goldmine of useful tips and tricks!
Canva Help Center on Editing and Designing
Once you're happy with your yoga sequence, simply hit 'Download' at the top right of the screen. Then, you're ready to print your sequences or share them digitally.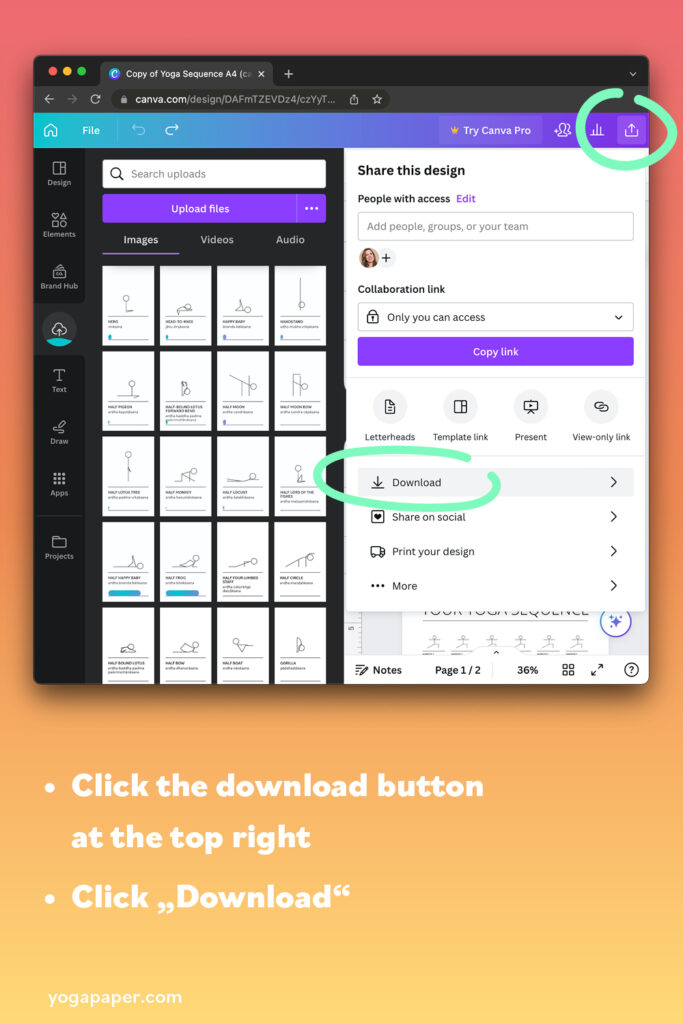 Remember, these templates are here to make your life easier, so feel free to experiment and find the best fit for your classes. And if you have a specific layout or a different style in mind, please don't hesitate to reach out to me. I love creating new templates that align with your unique visions.
Happy sequencing! Chiara